Hi! I'm Lawrence, a PhD student at the University of Southampton, and all-round audio enthusiast. Many of the older posts on this blog come from my time working for the now defunct Solent Acoustics, a subsidiary of Solent University, Southampton, so you may see a few links back to the use of their equipment, and the collaborators on some of the posts that also worked at the university.
I am currently developing a temperature monitoring system for jet engine components (nozzle guide vanes) using ultrasound, specifically investigating the temperature dependence of Lamb wave modes, and suitable transducer configurations for installation within a jet engine. Please check out some of my publications if you're interested.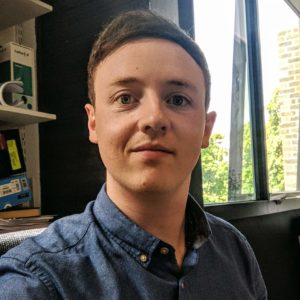 I graduated from Southampton Solent University in 2013 with a BSc in Live and Studio Sound. I then joined the university as a Graduate Associate in Broadcast and Cinema Sound, and subsequently became a Research Assistant in Acoustics as part of Solent Acoustics.
As part of that role I undertook consultancy tasks such as the noise and vibration measurement of car parts, medical devices, and headsets. I also delivered practical sessions to both undergraduate, masters, and short-course students in the areas of acoustics and electro-acoustics as an Associate Lecturer.
I hold an MSc in Applied Acoustics, the Institute of Acoustics Diploma in Acoustics and Noise Control, and a BSA (British Society of Audiology) Certificate in aural impression-taking.
I have a growing interest in cartography, which stems from a fascination for visiting new places, as well as my love for GeoGuessr! I'm eager to learn more, but for now you can check out a few of my blog posts on using R/QGIS for geospatial stuff, as well as the range of sources that got me started.
Twitter feed is not available at the moment.